PXP Professional Colours
Welcome to PXP Professional Colours, a creative habitat full of inspiration for your creations with everything you need right at your fingertips!
PXP Professional Colours aqua face and body paints are highly pigmented and provides excellent coverage while using just a small amount of the product. Ideal for fine details and line work. A high quality face paint perfect for face and body art because of its ultimate and extremely long lasting brightness, premium coverage and highest consistency.
Quality and Safety
We are passionate about face and body painting and hold our products to the highest standards of quality and safety. This dedication makes PXP Professional Colours the Number 1 choice for many, including professional face & body painters.
At PXP Professional Colours, we believe in making products which are 100% safe. Rest assured that PXP Professional Colours paints are classified as not hazardous to health or environment and are made of premium cosmetics ingredients.
Products
Your favourite color is our passion!
Dive into our world of colour and discover our make-up and accessories.
© All photos in the gallery are commissioned by or in collaboration with PXP professional colours and are protected by copyright.
Use of these photos is only permitted with our written permission.
Join us
As a PXP Professional Colours customer you get access to the complete website including prices, special offers and your own account. Take advantage of the benefits and sign up.
Notice! PXP Professional Colours only delivers to business customers related to face paint.
How do I become a customer?
To become a PXP Professional Coulors customer, complete the contact form below. Please state what your name is, the name of your company and the Chamber of Commerce number.
How can I order?
Once you've completed the contact form, we will contact you as soon as possible by e-mail. When your application has been approved you will receive a confirmation email and you can continue the registration. Hereby you get access to the member area and you can add items to the online shopping system.
Living in Germany or Austria?
If your company is located in Germany or Austria you can contact:
Peter Tronser – Body painting and more
www.peter-tronser-onlineshop.de
info@peter-tronser.de
Living in Italy?
If your company is located in Italy, you can contact:
Magnum Shop
www.magnumshop.it
info@magnumshop.it
Located elsewhere, you can submit an application using the contact form.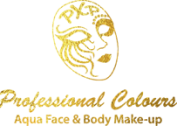 PXP Professional Colours
Berghemweg 19
5975 RJ – NL
Chamber of Commerce in Venlo:
Registration number: 1202.1693
Establishment number: 000017234883